Winter Whites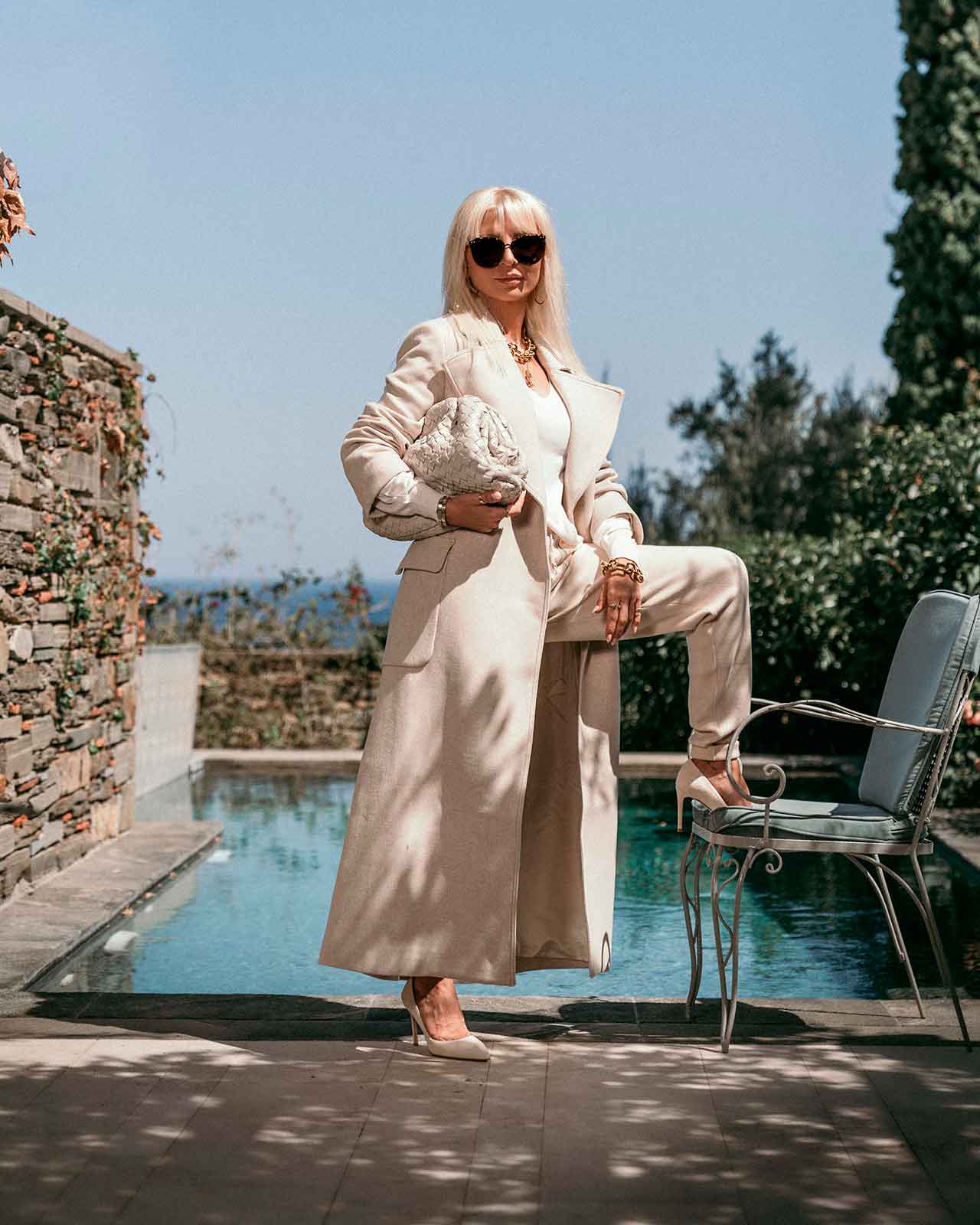 There's nothing more refreshing, than wearing white on winter. Don't get me wrong, I do love black and dark tones, as I assume we all do.

But wearing winter whites, in those gloomy fall-winter days, is so much uplifting! From formal wool suites, to sleeveless sweaters and luxe creamy coats, I urge you to dare wear whites, even in the middle of the winter!
1. The Power Suit
Can you think of something more feminine and sexy, than a wool men-cut suit, paired with a white crisp shirt? Pair it with high heels and you're ready to make some heads turn! Don't forget to accessorize your outfit, with a statement jewelry piece (chunky necklaces and bracelets are so in fashion) to make your look more bold!
Details: Suit Giuliva Heritage, shirt Massimo Dutti, ecrou pumps Stuart Weitzman, bag Hermes Birkin 30, chunky statement jewelry Bold by Angelique Tsanis
2. Leisurewear
Wool jogger pants, a fine knit sweater and an oversized coat makes a casual look, so fashionable! Keep your sneakers in your closet, and wear a pair of suede high heels to make it… (sexier?)
Don't forget to accessorize with a large clutch bag and some bold jewelry.
Details: Wool coat Giuliva Heritage, knitted jogger pants Zara, fine knitted sweater Massimo Dutti, clutch and sunglasses Bottega Venetta, pumps Stuart Weitzman, jewelry Bold by Angelique Tsanis
3. Knits and Fringes
Wear a cropped knitted top with a pair of loose pants and wrap yourself with a wool fringed coat. Fringes are so trending right now! Go for a monochromatic look. It's always so chic!
Details: cropped knitted top Simonett, loose pants COS, fringed wool coat P.A.R.O.S.H , bag Hermes Birkin30, pumps Stuart Weitzman, jewelry Bold by Angelique Tsanis
4. Layer it up
Choose a sleeveless sweater or a cape and wear it on top of a white shirt. Get yourself a same tone pair of pants and medium heel boots. Elevate your look with a beret and a shoulder bag to make it more sporty!
Details: shirt, velvet pants and sleeveless sweater Massimo Dutti, boots and bag Christian Dior, beret Borsalino, sunglasses Nina Ricci